Dog Names and Puppy Names For Every Dog Breed
"Choose a name that fits your dog's personality and purpose."
Search for puppy names on our huge list of dog names for every breed (bottom of this page). You will discover great names for male and female canines, unique and popular dog names, and celebrity names, too. Learn the meaning of the name or names you may be considering. Choose a name that fits your dog's personality and purpose.
There are also lists of dog names by breed, funny dog names, hunting dog names and more. Need a list of German Shepherd dog names?
How about Labrador dogs names? Keep reading or go to the bottom of this page for the complete list.
Is it a girl or a boy?
If you know whether you will be getting a boy or girl dog, we have separate lists of the most common female dog names and male dog names. Most people find the differences obvious, but still like to pare down the list when there are so many choices.
Obviously, there are names that can be used for both sexes. Examples include Bailey, Sam, Dixie, Pepper, Dakota, and on it goes. Just don't name your boy dog "Lady" and then blame me for saying it was OK. It isn't.
What are the most popular puppy names?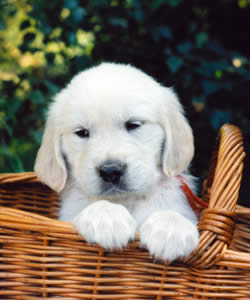 Photo by Hilde Vanstraelen
Discover the most popular dog names boys and girls. Just because a name is popular, that doesn't mean you have to go along with the crowd. If you don't want your best friend to have one of the top 100 dog names, but something unique instead, keep reading.
Some people like to see this list so they can avoid the puppy names most often used by others. How many more dogs named "Max" does the world really need? (Sorry, if your dog is named Max. It's a great name, but it also happens to be one of the most popular dog names on the planet!)
Will your dog be famous, too?
If you are interested in famous dog names or celebrity dog names, you will also find them here. Most people are familiar with the most famous puppy names like Lassie, Benji or Old Yeller, but you might be surprised just how many famous dogs there are. Take a look!
Things to Consider When Naming Your Dog
Here are just a few thoughts to consider when choosing your dog's name:
Try to avoid names that rhyme with common training commands. For example, "Pit" rhymes with "sit," "Fletch" rhymes with "fetch," etc.
Try to avoid names that are too long or complicated. This can make training more difficult.
Some people prefer one syllable dog names for hunting dogs. Although this is personal preference, one syllable names often work better when giving your dog voice commands. If your dog has a longer name but there is a shorter, one syllable version available, that works, too. For example, Buckshot could be "Buck," Wesley could be "Wes," and so on. Take a look at our hunting dog names list if you are interested.
If someone gives you a dog that already has a name, live with it. Changing their name at this point will likely cause more trouble than it's worth.
Top Dog Names – "Bella" takes over No. 1 from "Max"
When someone publishes a list of the top dog names, how do they really know? When it comes to names, the Veterinary Pet Insurance Co. (VPI) of Brea, California, has the numbers. Reportedly the nation's oldest and largest pet insurance company, VPI has more than 475,000 names in its pet insurance database (dogs and cats), and it analyzes the names in that database to determine which names are the most popular.
Believe it or not, the most popular name for dogs AND cats in 2008 was "Max". In fact, some of the most popular puppy names are also some of the most popular names (according to the Social Security Administration) for new HUMAN babies, too!
According to VPI, Max has been the top dog name since 2003, but was unseeded in 2009 by "Bella," thanks to the highly popular "Twilight" movie series of books and movies. If you don't know, Isabella "Bella" Swan is the name of the heroine in the movie.
The 2009 list is as follows:
| | |
| --- | --- |
| 1. Bella |   6. Buddy |
| 2. Max |   7. Maggie |
| 3. Bailey |   8. Daisy |
| 4. Lucy |   9. Chloe |
| 5. Molly | 10. Sophie |
List of Dog Names
Follow your nose to one of the name catergories, below. Click on any category and you will be taken to an entire list of names that falls within that category. Take your time and have fun choosing the perfect name for your new puppy.
Click on a letter below for more Puppy Names alphabetically