The cute puppy names list has more than 100 names for the cutest canine companions. Includes cute dog names, one syllable dog names and more. Just remember, cute is in the eye of the beholder!
Take a look at the Shiba Inu dog in the picture to your right. How can you deny he is a very cute puppy?
The name Riki suits him well as he is a Japanese breed oozing with self confidence. Riki means "Strength" or "Power."
Do you have a cute Pug? How about naming him Moose. Pugs are not particularly large dogs, but the name just seems to fit (for me). Visit our Pug dog names page for more ideas.
For those who prefer one syllable dog names, there are plenty on the cute puppy names list like Babe, Bear, Boots and Brook, and those are only the "B" variety. Duff, Gus, Link, Moose and Rags are just a few of the other one syllable names on this list.
If you choose to go with a popular name, visit our most popular dog names for a wide variety of options. To really narrow your choices, have a look at the top 100 dog names list for the most popular names in use today.
My Favorite Cute Puppy names
Three of my favorite cute puppy names are Maggie, Duff and Tucker. We actually had a Cockapoo named Maggie, and she difinitely fit in the cute category.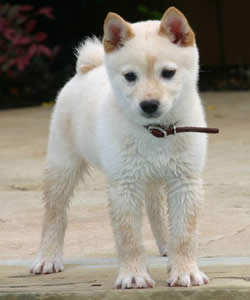 The name Barkley is also a very cute dog name, although I have never thought of Charles Barkley as being cute. If you don't recognized Sir Charles' name, you either don't follow professional basketball or you are much younger than I am.
Just in case you don't know, I have a thing for one syllable dog names and there are quite a few on the cute puppy names list. Just remember not to use a one syllable name that rhymes with a training command as it can be confusing for your dog.
That's why many people warn against one syllable names. For me, Hunting dog names are a great use of one syllable names as they make it easier to issue voice commands.
Below is a list of more than 100 of my favorite cute puppy names, including many of the reasons why they are on this list. Have a sniff around and see if you can find something perfect for your cute puppy.
If you don't find a name you like, visit our Dog Names by Breed page or one syllable dog names list to see more options. For even more names, search our list of more than 4,000 puppy names.
Name
Meaning
Agate
A semi-precious gemstone that is made up with bands of colors
Amber
With a fur yellowish in color; urine-like, to be exact
Amigo
Spanish for "friend"
Atom
Great name for small dog breeds.
Babe
A term for endearment, like with your girlfriend or boyfriend. Just make sure that you do not confuse the two.
Bandit
A robber or thief, mostly of food
Barkley
As in "Sir Charles" or Charles Barkely, the NBA basketball great.
Barley
With coarse fur, just like the cereal
Baylee
One of my dogs is named Bailey, which is the most common spelling. I put this name on the cute puppy names list because I like the unique spelling.
Bear
A big and hairy predator
Bebe
A variant of "baby", if you want to get a little fancier
Bella
This is on the top 100 dog names list and has been for many years. Also a great name for fans of the Twilight movies and books.
Big Boy
Just like what its name says: big boy; a perfect contrasting name for their size
Bingo
The name of the farmer's dog from a popular children's song. B-I-N-G-O!
Biscuit
You could also go with Bikki, which could also be on the cute puppy names list.
Bisto
A popular gravy brand made in Britain
Blackie
Great name for a Black Labrador Retriever. Visit our Black Lab Dog Names list for more ideas.
Blondie
Female with blonde hair
Bones
A dog with a great love gnawing on bones
Boogie
A dance that requires fast and repetitive movements
Boots
Sounds like a cat name, but I think it works for dogs, too!
Bounty
An abundance of something, whatever that is
Brook
Someone who tolerates or allow
Brownie
With soft and brown fur (and obviously not edible fur), like this yummy dessert
Button
Small and cute; like "cute as a button"
Buttons
Could be a variant for "Button", just to shake things up
Buzz
A low and continuous humming sound, mostly made by a bee or mosquito
Calypso
Means "to hide or conceal"; also a nymph in Greek mythology
Candy
A sweet food that makes for a cute dog name
[cmamad id="5257″ align="center" tabid="display-desktop" mobid="display-desktop" stg=""]
Cherry
A small, red, and sweet fruit that also makes for a cure dog name
Chiquita
Girl's name of Spanish origin that means "little gift"
Chum
Another word for "friend"; a great alternative to the more common dog name "Buddy"
Coco
Do you have a Chocolate Labrador Retriever like me? This makes a great name. Find more like it on the Chocolate Lab Names list.
Cookie
Small and sweet cake, mostly round and flat
Cracker
Similar to a cookie but it is mostly salty and crispy
Dallas
A city in the northeatern part of USA
Dazzler
Someone who dazzles and gets attention all the time
Diamond
Very hard and expensive precious stone; revered by women
Dinky
Great name for small dog breeds.
Duff
This is one my favorite cute puppy names. Duffy "Duff" Senf was my barber as a kid and he played a mean clarinet.
Fiddles
The act of fiddling something
Finnegan
The dog puppet from the Mr. Dressup television show
Flower
That dainty blossom growing from flowering plants
Fluffy
Full of fluff that your hands sink into their thick fur
Frostie
I picked this for white colored dogs like an American Eskimo dog.
Fudge
Soft and sweet
Gus
A masculine name that can be short for "Augustine", "Augustus", "Gustav", and other names that you can think of that contains these three-letter name
Hazel
Reddish-brown or greenish-brown color; can refer to their eyes or fur
Higgins
When I thought of this name, I pictured a Bloodhound. It's a great name for any breed, but it seems sophisticated to me.
Hobo
Homeless or tramp (although this would not be applicable to your dog, unless it really does not have a home)
Izzy
A common nickname for "Israel", "Isaac", or "Elizabeth"
Jackpot
Large price acquired in a game; can refer to your dog
Joplin
As in Janis Joplin, the famous female rocker from the 1960s.
Kibbles
Something ground or chopped (refer to this on your dog's size and not on the actual grounding or chopping)
Link
Love this name.
Little One
Fitting name for their small size
Lottie
Means "little and womanly"
Luther
A German priest, monk, and professor
Maddie
Means "maiden" or "young, unmarried woman"
Maggie
This was the name of our precious black Cockapoo. She died in a tragic accident, but she was the cutest puppy!
Marley
Name of the cute Yellow Labrador Retriever in the 2005 book and the 2008 movie Marley and Me.
Minty
An adjective that describes the flavor of the mint
Misha
Means "who resembles God" in Hebrew
Moose
Among cute dog names, this can be used for small dog breeds or large dog breeds.
Muffin
A quick bread that is made in small portions
Munchkin
Refers to a child; can also those round little desserts made by a popular donut company
Nero
Roman emperor who was famous for his cruelty
Nibbles
To eat with small, quick bites or in small morsels
Nipper
The dog model for a painting that is titled "His Master's Voice". This image has become the basis for the dog and gramophone logo that is now used by a number of audio recording and brand
Oliver
Refers to the olive tree which stands for beauty, dignity, and fruitfulness
Oreo
What's not cute about Oreo cookies?
Orley
Can be a nickname for Corley, Morley, Sorley, etc
Orson
A male name of Latin origin; means "bear"
Ozzy
…and Harriet, if you have two dogs.
Peaches
A name for endearment; also the name of the baby mammoth in "Ice Age"
Pebbles
…and Bam Bam.
Pee Wee
Good Chihuahua name. Check our Chihuahua names list for more ideas.
Pixy
A variant of "pixie", a small, humanlike, and mischevous supernatural being with pointed ears and pointed hat
Poppy
A plant with showy flowers
Powder Puff
A soft pad for applying powder to the skin, especially the face
Quennie
Variant for "Queenie", meaning small queen
Rags
I really like this name for a longer haired dog. Maybe a Lhasa Apso or a Pekingese dog.
Rascal
Cheeky and mischevous little dog
Ribbons
Long and narrow strip of fabric used for binding or tying
Riki
Japanese name meaining Strength or Power.
Riley
Means "courageous"; of Irish origin
Ringo
Means "ring"; also the name of the drummer of the legendary band the Beatles
Sawyer
"Means ""wood worker""; most familiar as the name of Mark Twain's boy hero, Tom Sawyer"
Scamp
Popular among cute dog names.
Scruffy
Shabby and untidy, referring to their fur
Shaggy
Having long, thick, unkempt hair or fur
Snowball
Perfect name for a dog with fluffy snow-white fur, just like a snowball
Sox
For the big Boston Red Sox fan
Squirt
Slang for a small person or thing
Sugar
A sweet name for a sweet puppy.
Taffy
Chewy candy that is similar to toffee
Tanner
Means "leather maker"
Teddy
Does your dog remind you of a cuddly litte teddy bear?
Tinker
As in Tinker Toys.
Tiny
Small, petite, minute, all the other synonyms that you can think of
Tucker
This is not in honor of the ill-fated Tucker automobile. I just love the sound of this name and it is one of my favorite cute puppy names.
Twinkle
Sparkles or gleams, like a star
Whiskers
A common name for cats but is also just as fitting for dogs. They also have whiskers, you know.
Xena
Greek for "guest" or "stranger"
Zest
Great enthusiasm and energy
Zoey
In Greek this name means "Life." If your puppy is a spunky one, this is a great name.
Can't find the name you like on the Cute Puppy names list? Don't give up. Visit our Dog Names by Breed list or one syllable dog names list to do some more searching. If you have a great name, tell us about it!
Share your favorite Dog Names!
Share your favorite dog names and a personal story if you have one. If you do have a story, tell us why you chose the name you did or let us know why the name is special to you.
Return from Cute Puppy Names to the Puppy Names page
Visit the Dog Names by Breed page