"Cats are smarter than dogs. You can't get eight cats to pull a sled through snow." Jeff Valdez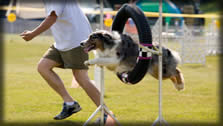 If you want to know how to train a dog yourself, you have come to the right place. From basic dog training to puppy training, crate training, potty training a puppy, leash training and so much more, we can help.
This section of our site focuses on training tips and techniques, information and solutions, as well as training resources and links. Check the extensive list of common dog training needs below.
If you have an invisible fence for dogs or you are considering one, we even have information on dog fence training as well as installation tips and product reviews.
You have questions? We have answers!
Have you ever been frustrated when your dog won't come when called? Do you enjoy cleaning up "surprises" when you return home from work or from the store?
How do you like it when your "best friend" jumps up on a fresh set of your clothing just as you are heading out the door to work?
You may also have questions or concerns about things like poop eating, destructive chewing, jumping or excessive whining, nipping or play biting.
Then there is the all time favorite complaint, barking dogs! These are all common questions with solutions that really work.
Common Dog Training Needs
If you need help with any of the following issues as well as a host of others, the information on this site can help. Click on one of the topics below for free training tips and articles as well as links to a wealth of other helpful information.
Helpful Training Tools
What's the best way to contain your dog in the yard or in the house? Are some collars better than others and how do you choose? Do you need an electronic dog collar? What kind of a crate does your dog need, or do you even need a crate? What exactly is a dog whisperer?
With so many products and services on the market today and so many possible choices, we have provided information to help with your decisions.Here are a few of the most popular topics:
From One Dog Lover To Another
Don't let the joy of owning a dog (or two, or three!) be dampened by the frustration that often accompanies a lack of proper training. If you have a puppy, start off on the right foot. If you have an older dog, it's never too late to see improvement. The best advice is to not ignore a problem!
Look around and help yourself to lots of free information. There is no need to search the net
for "hot tips." You will find everything you need right here, so you can get started today!
It's your dog. You deserve to have the best. And, we can help!