Basic Dog Training: Simple Steps to Success
"Positive dog training with its rewards, praise and
positive reinforcement is far superior to using the harsh alternative."

Basic dog training and puppy training are the keys to greater happiness in raising your dog. Educate yourself and follow these simple steps to success.
When you see that cute little puppy in the window or in a free box at the local grocers, you can't wait to get it home. Then what? One option is to ignore the need for training and let things happen naturally. Bad idea. Another option is to educate yourself on some basic dog training and puppy training techniques before you have major destruction or other problems on your hands.
Dogs z-ga-top-336x280 -->
First Steps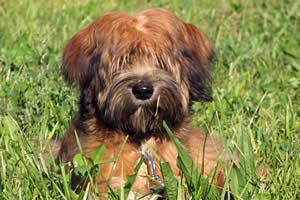 When you first begin, basic dog training will be a slow process that will test your patience. In the end, though, it will be worth all the trouble. Remember, this early training will be the foundation on which all other training is built. The first steps are focused on establishing your leadership role.
Wild dogs and their distant relatives, wolves, operate with a pack mentality. This mentality says that only the alpha male makes the rules. And that is what you want to become, the alpha personality. The "top dog," so to speak.
Believe it or not, this is not a hard thing to do. You must simply begin teaching your dog to sit and stay. Using the basic dog training technique of positive reinforcement, you will soon have your pup sitting like a pro. This will begin to establish the leadership hierarchy.
Positive Dog Training
The key to positive dog training is positive reinforcement, which can include anything the dog perceives as positive. What you feel is positive may not be perceived as such by your puppy. Generally, light verbal praise and a small amount of petting will do the trick.
Some people will use treats as the positive reinforcement; however, since there are mixed reviews on the use of treats, this article will take the middle ground. If you like to use treats, use them sparingly and only for difficult training tasks or in rotation with physical displays of affection.
Puppy Potty Training
Potty training your dog is the most basic dog training activities and one of the most important for dog owners. No one likes the gifts that Rover will likely deposit on your living room floor if not properly trained. Puppy potty training begins with your decision on where your dog will be allowed to go potty. Once you decide, you need to stick to it.
Inside Dog Potty Training
If your dog's potty area will be inside your home, you must gently steer him to that area when you see him getting in position to potty (squatting or lifting a leg). If you arrive a bit too late and your dog has just finished "the deed," tell him "No, bad dog" in a firm voice and show him the potty area you have chosen.
If you discover your canine's error in judgment after the deed has been done, a retroactive scolding will likely be unfruitful. In other words, you must catch your dog "in the act" in order for your "No, bad dog" to be effective. Otherwise, you will be contributing to the confusion of a canine (not a Federal offence, but certainly ineffective in gaining the desired results).
Outside Dog Potty Training
Outside training is generally preferable, but is not always possible and can be a bit more difficult to master. One good option for outside potty training is to leave your pup in a dog crate or another form of enclosure for a time. You can also be diligent and take them out for a few minutes after they eat or drink and especially first thing in the morning.
Cautionary Note: If your dog is running around playing and frolicking, that is a good indication that a potty break is not on
their agenda and you should return to the house immediately. By using this technique, when your pup does potty and you can reward them for it, they will understand
that their "bathroom" is outside.
Conclusion
These are just a few of the positive results that can be achieved with basic dog training and puppy training skills. In every step there is one key concept that you must reinforce. Consistency. Whatever training concept you are trying to establish, whether it is potty training, not jumping up, etc., you should always discipline the same way. Your dog needs consistency to avoid confusion and frustration with the training process.
Cautionary Note:
Positive dog training
with its rewards, praise and positive reinforcement is far superior to using the harsh alternative. Physical punishment should never be a part of your basic dog training system.
Return from Basic Dog Training to the Dog Training Information page
Return to Dogs and Dog Advice home page