The unique dog names list has names for dogs who deserve something different. While unique dogs are in the eye of the beholder, there are some dogs that are undeniably, well, unique.
Take the dog in the picture, for example. His name is Dash and he is owned by Mark Jones of Jersey City, NJ. Can anyone deny the uniqueness of Dash?
Do you have a unique Poodle? How about naming him Doodle. If your pup is the tiniest thing you have every seen, you could always name him Hulk. Or name your big dog Macro and your small dog Micro.
For those who love one syllable dog names, there are plenty on the unique dog names list like Zeke, Zip, Jade, Taz and Chan. You won't find names like Max or Bailey on the list as they are two of the most popular dog names in use today. In fact, both of those names made the top 100 dog names list.
My Favorite Unique Dog names
Three of my favorite unique dog names are Taz, Noodles and Jazz. I also really like the name Zuri, which means "Beautiful" in the Swahili language.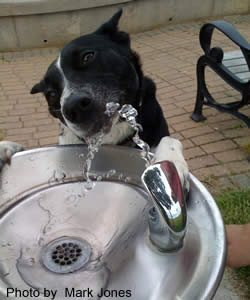 If you have spent much time on this website, you probably know I have a thing for one syllable dog names. While some warn against using one syllable names because they could be confusing to the dog, I have always like them.
Just be careful not to use a name that rhymes with a training command. For example, Neal sounds like "heal" and Beau sounds like "No." Hunting dog names, in my humble opinion, are a great use of the one syllable variety.
Below is a list of more than 100 of my favorite unique dog names, many with reasons why I included them on the list. Browse or study the list and have fun. For all boy dogs, check the unique male dog names list.
If you don't find a name you like, visit our Dog Names by Breed page or one syllable dog names list to see more options. For even more names, search our list of more than 4,000 puppy names.
Name
Meaning
Addison
Means "son of Adam" (their father do not have to be named Adam, though)
Adonis
In Greek mythology, the god of beauty and desire
Amore
Refers to "love" in Italian
Argyle
Argyle is back in fashion today. Are you the preppy type? Maybe your dog is too!
Avery
Means "elf council"
Bailey
Means "berry clearing"; also the name of an Irish whiskey
Bandit
Great name for an American Staffordshire Terrier, or a "Pit Bull" as some people call them.
Banzai
Do you own an Akita or a Japanese Chin dog? In Japanese, Banzai means "Ten Thousand Years." While your dog name not live that long, I just think it belongs on the unique dog names list.
Blaize
Means "lisp" or "stutter"
Bluebell
A plant with a bell-shaped flower
Bogart
Do you remember the famous picture of dogs playing poker? There were several like this from the early 1900s and I imagine at least one of these dogs was named Bogart.
Cabernet
Superior Bordeaux type of red wine
Cashmere
Fine soft wool from the Kashmere goat. Feeling your dog's fur should feel like one
Casino
For the great lover of gambling
Chan
I think this also belongs on the Chihuahua names list.
Cheyenne
A pungent red powder made from ground dried chili peppers. Totally hot, hot, hot!
Cuddles
Perfect name for a dog that you can cuddle
Dakota
Great and unbeatable fighter
Dallas
A city in the northeatern part of USA
Dancer
If you have ever imagined your dog in a tutu, this might be the right name for your pup. Depending on your picture, this might also fit the funny dog names list.
Dash
Moves super fast. In no time, he has consumed his food and has stolen yours
Dharma
Name her partner Greg and relive the popular American television comedy
Diego
My brother-in-law's dog is named Diego and he is one unique dog. The picture doesn't do him justice. He runs like a deer and jumps like a kangaroo!
Digit
Refers to a finger or toe
Disco
For the dog owner who loves the disco ball and the boggie of the 60s
Diva
Just as Beyonce says: the version of a hustler
Doodle
Great name for a Poodle.
Drake
Means "dragon"
[cmamad id="5257″ align="center" tabid="display-desktop" mobid="display-desktop" stg=""]
Durango
A state in northern central Mexico
Ebony
Great name for a black dog. Perhaps a Labrador Retriever.
Elliott
Means "the Lord is my God"
Eloise
Old German for "famous warrior"
Espresso
Strong and black, just like the coffee
Fable
A fabricator or inventor
Fang
With a large, sharp tooth
Fantasia
Free and improvised musical composition
Figaro
Gepetto's pet kitten in Disney's 1940 film Pinocchio; later appeared in several shorts as Minnie Mouse's pet
Flurry
A small swirling mass of something
Gipsy
A laborer
Gizmo
This name is also on the Chihuahua names list because it reminds me of the funny character from the Gremlins movie.
Goober
Refers to a peanut
Harley
An English male given name; also an American motocycle manufacturer
Hogan
American professional wrester Hulk Hogan
Hooligan
Violent troublemaker
Hope
Feeling of desire and expectation for a certain thing to happen
Hulk
Fictional character who turns green, big, and violent when agitated
Imagine
Believe to exist
Indigo
If you have an Australian Cattle Dog, also known as a Blue Heeler, this is a great name.
Jade
My wife had a cat name Jade and I really like this name.
Jagger
English rick star Mick Jagger
Jamaica
For the lovers of reggae and Bob Marley
Jazz
This is another of my favorite unique dog names. I picture a dog with black coloration. Maybe a Black Russian Terrier. That's a very unique dog.
Jinx
A person or thing that brings bad luck
Kashmir
The northwestern region of the Indian subcontinent
Keno
For the lovers of gambling
Laramie
A city in and the county seat of Albany County, Wyoming, United States
Lark
A dog who seems to always be in great spirits, as in "happy as a lark"
Latte
A strong variant of espresso coffee
Lava
Another great name for the Black Lab Dog Names list.
Legend
Very well-known
Leo 
Refers to "lion"
Limbaugh
No, this is not a reference to the radio commentator. This is a very common last name, but a unique name for your dog.
Lindy
Means "beautiful", "pretty", "sweet"
Lylah
Means "night"
Macro
Great name for large dog breeds.
Madden
Any football fans? Yes, this is definitely a reference to John Madden, the famous football TV man.
Mango
Fleshy and sweet yellowing fruit
Mantra
A word or phrase that is often repeated
Mercedes
A Spanish name for girls
Micro
Great name for small dog breeds.
Muscles
Strong and brawny
Nacho
Great name for a dog; actually a popular food of Mexican origin
Nemo
Does your dog like to hide? Use this name and you could tell people how much time you spend finding Nemo (OK, bad joke).
Nero
Roman emperor who was famous for his cruelty
Nikita
Greek for "unconquered"
Noodles
I love this for curly dogs. Great name for a Bichon Frise.
Nudge
A dog who always wants to get attention
Odessa
Means "angry man" (a rather unfitting meaning for a name of a girl)
Orbit
Loves to move around in dizzying circles, mostly because of wanting to catch his tail
Paris
Elegant, chic, and popular
Pebbles
If you have two dogs, you could name your other dog Bam Bam.
Pip
A small shape or symbol
Pluto
Yes, this is a very well-known Disney dog name, but I don't hear it used much for "real dogs." That's why I put it on the unique dog names list.
Quimby
The sidekick of an outspoken and characteristic bully (that's you)
Radar
As in Radar O'Reilly from the old M.A.S.H. TV show and movie.
Ransom
Refers to "redemption"
Rapunzel
The famous character whose long hair can be climbed on
Sable
Another good black dog name.
Samurai
A warrior in pre-industrial Japan
Sasha
Means "man's defender"; perfect if you're a man with a rather strong female dog
Sierra
Means "saw"
Sloan
Means "warrior" or "man of arms"; can be used both as a male or female name
Tamale
A yummy Mexican dish
Taz
When I think of the Looney Tunes cartoon featuring the Tazmanian Devil, I think of the Chow Chow dog. It looks nothing like the real carnivorous marsupial found in Australia, but more like the cartoon. Go figure.
Uno
Means "one" or "first"
Violet
A flower of purplish-blue color; popular name for a girl
Wrangler
Perfect name for a herder in a ranch or farm
Yoga
Relaxing and meditative, just like this Hindu discipline
Zeke
One of my favorite one syllable dog names. I also think this fits on the hunting dog names list so I included it there.
Zip
Moves fast and swift
Zuri
The name Zuri is Swahili for Beautiful. Love this name.
Can't find the name you like on the Unique Dog names list? Don't give up. Try the unique male dog names list if yours is a male pup. You may also want to visit our Dog Names by Breed list or one syllable dog names list to do some more searching. If you have a great name, tell us about it!
Share your favorite Dog Names!
Share your favorite dog names and a personal story if you have one. If you do have a story, tell us why you chose the name you did or let us know why the name is special to you.
Return from Unique Dog Names to the Puppy Names page
Visit the Dog Names by Breed page