With so many puppy names to choose from, it's hard to find fitting female German Shepherd names. Choosing the right name for such an intelligent, courageous and capable breed is an important step and worth the extra time it may take. It's almost like trying to name Wonder Woman (hey, there's an idea!).
Female Shepherds need a name with strong character, but matching the famale personality. What is the purpose of your German Shepherd? That also plays into your decision.
Shepherds play many roles from companion to guard dog. They also make outstanding service animals, often used to help those who are visually impaired.
If you want to learn more about seeing eye dogs and the fascinating story of Morris Frank and Buddy, visit The Seeing Eye website.
As a kid, I had two German Shepherds, but they were both male. Later in life I had two more male Shepherds, but they were not pure bred and both were named Sam (actually the second one was named Sam II).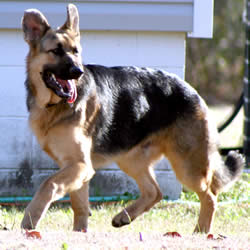 If you need a boy dog name for your Shepherd, check the male German Shepherd names list. Otherwise, take a look at the list of names and meanings below.
One more thing . . . my neighbor raises German Shepherds and my favorite of her female German Shepherd names (so far) is Deja. That just seems like a cool dog name.
If you don't yet own one of these impressive dogs, visit our German Shepherd information page to learn more. This may also help you choose an appropriate name for your dog.
Browse our list of more than 80 female German Shepherd names and their meanings. Take your time and have fun.
If you don't find a name you like, expand your search to our list of German dog names or to our entire list of more than 4,000 puppy names.
Name
Origin
Adele
Germanic for Noble.
Allegra
Italian Lively or Cheeful. Latin for Joy. 
Ava  
Latin name meaning Bird
Avalon
Welsh for Apple Tree
Avis 
Variant of Ava for Bird
Belvah
Latin for Beautiful View
Bethan 
Hebrew for God is my solumn vow
Bethanie 
Latin for Enduring
Bethel
Hebrew for House of Figs
Champagne 
Hebrew for House of the Lord
Chelsea 
A French Region
Daisy
English for Day's Eye
Dante
English for Chalk Landing Place
Deja
French for Already (also Dejah)
Delta
German for Universal, Complete, Whole
Dulce 
Fourth letter of Greek alphabet
Ella 
Latin for Sweet
Emma
Greek for Torch or Bright Light
Excel
To be Superior
Exie
Greek for Defending Men
Ermine 
Latin for Wealthy
Eve 
Hebrew for Life (also Eva)
Ezra 
Hebrew for Aid
Fran
Latin for Free (see also Frankie). A good one syllable dog name.
Frankie 
Latin for One Who is Free (Franki and Johnny were lovers, you know.)
Gabriel 
Hebrew for God is my power. Variants include Gabby, Gabbie, Gabriella, etc.)
Geneva 
German for Woman – appropriate for the female German Shepherd names list!
Gerda
German for Protected.
Gisela
German for A Pledge. Variant of Giselle.
Gretel
Character in German fairy tale Hansel and Gretel
Hanna
Hebrew for Grace. Variant of Hannah.
Henrika
Germanic for Home Ruler.
[cmamad id="5257″ align="center" tabid="display-desktop" mobid="display-desktop" stg=""]
Hunter 
English for, you guessed it, Hunter.
Ida
Germanic for Work.
Idalia
German for Work. Variant of Ida.
Ionna
Greek meaning God is Gracious
Irma
Germanic for Universal or Complete.
Ivon
German for the Bow of an Archer
Jade
English for Precious Green. Also the name of my wife's cat in college. Sorry, dogs.
Kiki 
This is a shortened version of names beginning with K. Spanish origin.
Kona
Gaelic for World Rule (also a popular spot in Hawaii)
Laney          
Greek for Torch  or Bright Light (also see Emma)
Lucy 
Latin for Light. Common name for Beagles to Boxers.
Luger
An iconic German pistol. This made it onto the female German Shepherd names list, but it could also be a male name.
Luster
German for Cheerful or Care Free
Lydia 
Germanic for Noble Kind
Lyndi
English varian of Linda
Matilde
German for Powerful Fighter
Meg 
Greek for Pearl. Short for Megan
Megan
Greek for Pearl. Also Meghan
Melle
A German City and a good one syllable dog name.
Milda
A small German City. Also the Lithuanian goddess of freedom and love.
Millie 
Germanic for Strength and Determination
Missy 
English for honeybee. Short for Melissa
Molly 
Hebrew for Bitter. The name of my sister's Black Labrador Retriever. 
Myla
English for Merciful
Nala
African for Successful (remember Nala from Disney's The Lion King)
Nixie
German for Water Sprite (a water creature, being or monster)
Nellie
English. Actually a shortened form of Eleanor or Helen
Olga
German for Holy
Opal 
English for Precioius Stone
Pearle
English for Pearl (surprise). Also Pearl, Pearleen, Pearlene.
Raven
English for Raven.
Regina
Latin for Queen
Ricca
Germanic for Powerful Protector. Also Rica and Rika.
Rika
Germanic for Powerful Protector. Also Rica.
Ripley
Germanic for Eternal Ruler
Rona
Norse for Ruler with Counsel. See Ronald and variants for male German Shepherd dog names.
Rosa
Latin for Rose.  Also Rosalia.
Sam
Short fo Samuel; Hebrew for God Heard. Although Sam or Sammy are commong female German Shepherd names, they also make great male names. I had two male Shepherds named Sam.
Sandy
Greek for Defending Men.
Selma
German for Helmet of God
Shar
Germanic for Free Man. Also Sharla, Sharleen, Sharlet.
Sigrid
German for Fair Victory
Steffi
German for Crown
Tilla
German for Powerful Battler. See Tillie in male German Shepherd dog names.
Tilly
German for Powerful Battler.  See Tilla.
True
English name meaning Loyal. An appropriate entry on the female German Shepherds names list. German Shepherds are very loyal.
Trudi
Germanic for Strength of the Spear. Variants of Trudie, Trudy, Trude.
Veronica
Greek for Bringer of Victory
Willa
Germanic for Will, Desire, Helmet, Protection
Wilma
Germanic for Will, Desire, Helmet, Protection
Zelda
German nick name of Griselda, meaning Dark Battle
Zephyr          
Greek for West Wind. When I say the name, I think of motion.
Can't find the name you like on the female German Shepherd names list? Don't give up. Visit our male German Shepherd names list or our more general German dog names list for more ideas. If you have a name to add to the list, please submit your suggestion or story below.
Know any great German Shepherd Dog names?
Sometimes, the best way to get the perfect name for your dog is to ask a friend. Please share your ideas here for all to see. If you have a story to go with the name, please share that, too.
Why do you like the name? Is this your own dog's name? You get the idea.
What Other Visitors Have Said
My family's favorite female German Shepherd names.  

I like, Lexy, Lucy and most of all Larka. I must admit that it was really hard naming our Female German Shepherd puppy.
I liked larka my sister liked …
Return from Female German Shepherd Names to the Puppy Names page